Welcome to the Friday Five link up!
This link up is to show off your Friday Five post- a post with a list of five! Your list of 5 can be whatever you want, it's up to you! It could be 5 tips, 5 random thoughts about your week, 5 photos or something else you have up your sleeve!

We also accept guest Friday Five post to show off here, so if you have one you'd like us to feature please email us!
After you link up be sure to visit some of the other blogs in the link up and please, take a Friday Five button to add to your post or sidebar to show off where you linked up!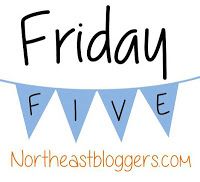 Connect with us!